Bright Club Manchester 31 – Crackers!
7th December 2017- The Kings Arms
Bright Club Manchester brought 2017 to an end with a big festive blow-off show. A packed crowd joined us as six first time performers and Bright Club alumni Ben Stutchbury knocked our Christmas socks off.
Ben Stutchbury made his compare début for the show and did a fantastic job introducing our six amazing acts:
John Lean – Games master and all round playful character
Tamsin Brown – Science communicator like no other
Luke Chaplin – The king of comed-A.I
Alex Carruthers – Our very own Man of Steel
Chris Pomery – Literary lawman
Owen Lynch – The fish whisperer
plus, music from Nexus art cafe's own Tom George
All the performances should be uploaded to our  YouTube Channel some time soon. Watch this space for developments.
Thanks for having me tonight, @BrightClubMcr. Always fun to share my ideas with a receptive audience!

— John Lean (@mrjjlean) December 8, 2017
Just had a fantastic time at @BrightClubMcr, thank you for the opportunity. So many amazing performances, from monopoly pedantry to fish murder. A wonderfully receptive and welcoming audience. Couldn't ask for better hosts @kingssalford or compèring @Benstutchbury #funny

— Luke Chaplin (@lukeachaplin) December 8, 2017
Thanks @BrightClubMcr for an awesome #comedy show tonight! The only place you'll hear about radioactive pigeons, game theory and neural network jokes all in one place #funny #bcmCrackers

— Ben Esse (@volcano_ben) December 7, 2017
Had an absolute blast tonight! Some fantastic acts on display. Thank you very much for having me @BrightClubMcr https://t.co/7OlyH5DANX

— Ben Stutchbury (@Benstutchbury) December 7, 2017
Bright Club Manchester 30 – The Edge
6th July 2017- The Kings Arms
Bright Club Manchester has joined in with the Greater Manchester Fringe Festival to show just how cutting edge we can be.

Our host Sean Moran will bring you six hilarious researchers:
Jamal Kinsella – Human response to vibration
Julia Steinberger – Environmental economics
Graeme Hayes – Sustainable innovation
Sophie Ward – Neuroscience
Bobby Innes – Multisensory decision making
Kat Kjellström Corbet – Practical personal development
plus, music from the awesome Steve O'Donoghue
All the performances from the show can be seen on our YouTube Channel and a review of the show can be found here.
"It was a treat to witness clearly highly intelligent individuals step out of their comfort zones and deliver unashamedly niche references which somehow remained amusing to the layman."
                                                                                         – John Holden (Nowthen Magazine)
Bright Club Manchester 29 – Disaster
30th March 2017- The Kings Arms
Setting up shop at the Kings Arms this was certainly the most disastrous Bright Club ever.  That's a good thing.  Honest.

Our compere Toby Hadoke – of XS Malarkey Fame – presented:
Ben Esse – Volcanoes
David Williams – Tsunamis
Freyja Peters – Comic book buildings
Jonathan Swinton – Computers doing life
Conor Walsh – Climate change
Heather Eyre – Radioactive wee
Providing a soundtrack for the night were the comedy gems of Ruth Cockburn.
All the performances from the show can be seen on our YouTube channel.
Bright Club Manchester 28 – Climax
9th December 2016- The Kings Arms
The days were getting shorter, the nights were drawing in and there were only 16 more sleep until Christmas. Bright Club Manchester was back at the Kings Arms for our climactic end-of-year show.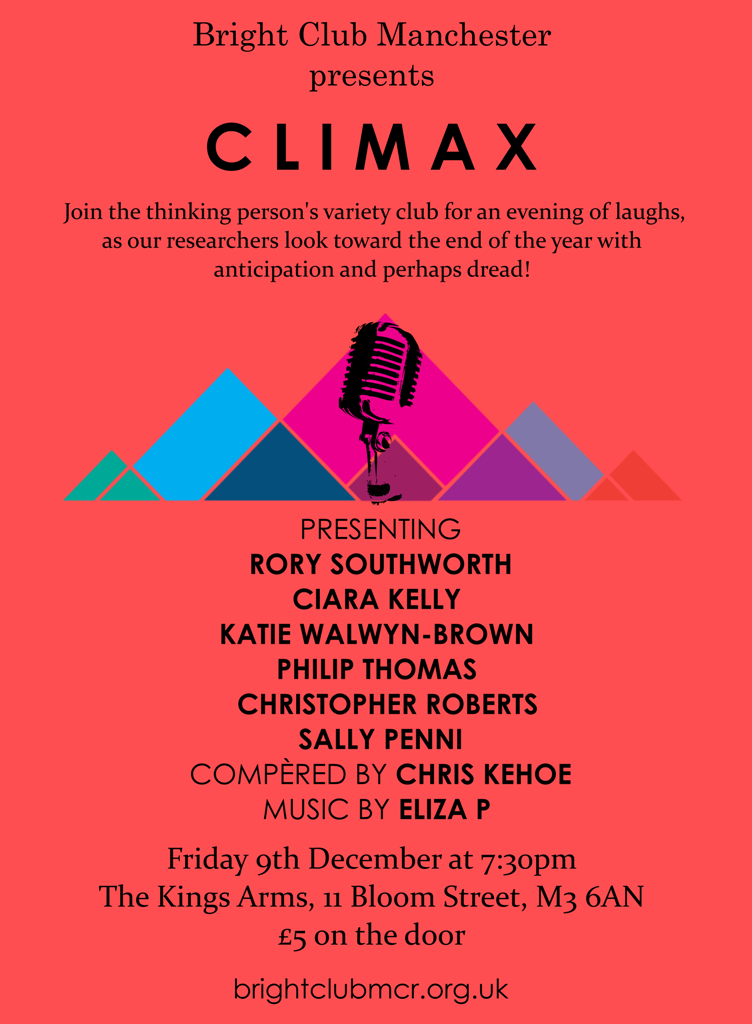 Our compere, the Comedy Store's own Chris Kehoe, was on hand to introduced a whole new bunch of bunch of funny, clever people:
Ciara Kelly – work psychologist
Katie Walwyn-Brown – immunologist
Christopher Roberts – corrosion scientist
Philip Thomas – nano-scale light… ist?
Sally Penni – barrister at law
Rory Southworth – product designer
Closing out the event was music from the awesome Eliza P.
All the performances from the show can be seen on our YouTube page.
Bright Club Manchester 27 – Histories 3
8th June 2016- The Union, MMU
There is a great sense of Deja vu about this show despite our lack of clear records. It might be because Bright Club Manchester was taking part in the Manchester Histories Festival for the third time.

Our compere Alex Hall introduced:
Ella Al-Shamahi – Paleoanthropologist
Nathan Tauger – Historian
Harriet Palfreyman – Another Historian – it is the theme!
David Mitchell – Town Crier
Tony Kinsella – Professional Relic
Martin Salisbury – Law Man
Music was provided by the Rap-Rock-Synth-Funk of Publik Sektor.
Performances from the night can be relived time and again on our YouTube page.
Bright Club Manchester 26 – The Big One!
29th October 2015 – The Union, MMU
For Bright Club Manchester's 25th anniversary show we decided to go big as a part of Manchester Science Festival.  How better to celebrate than to Bring together some of our best and most popular acts, all together, on one big stage.

Kiri Pritchard McLean presents this Festival edition, chock full of stars from recent Bright Clubs, specially chosen to guarantee a hilarious and enlightening night out.  We have
Sarita Robinson – Dr Survival
Cat Tennick – Dr Stabby
Ben Stutchbury – cell biologist
Lisa Heaney – neuroscientist
Jess Van Horssen – historian (Yes! Historian!)
Sophie Haslett – atmospheric chemist
and the awesome music of Eleanor Morton.
Highlights from the show are available on our YouTube page.
Bright Club Manchester 25 – Pieces 
11th June 2015 – Nexus' new exhibition
Its was our 25th show! and Bright Club Manchester went entirely to pieces over at Nexus's new exhibition.  Our hot new researchers sliced and diced comedy with neuroscience, sociology and many more moving parts.
Putting all our pieces in play we had Steve Cross, comedy guru and the founder of the very first Bright Club in London. Our fabulous line-up consisted of;
Lisa Heaney
Chella Quint
Sarita Robinson
Robert Ludlow
Dave Calvey
Cat Tennick
and the music of Gideon Conn,
Steve Cross at the Bloomsbury Theatre
Photo by Ed Moore
Bright Club Manchester 24 – New Beginnings 
29th January 2015- Nexus Art Cafe
To welcome in the new year Bright Club Manchester decided to start afresh, join a gym, drink less and get a solid eight hours sleep a night. OK so we didn't manage that too well but we did put on a stonking January show dedicated to thinking about starting anew with a fresh roster of researchers.
The compere Andrew Taylor introduced our new batch of performers ready to share stories of re-birth, re-branding, and realisation that the world around us is constantly changing;
Sophie Haslett – a breath of fresh air
Ben Stutchbury – old dogs, new tricks
Kelly Pickard-Smith – new experiences
Narinder Mann – new career
Christina Smith – new observations
David Price – new flavours
…with music from Hawker Reunion.
Bright Club Manchester 23 – Dimensions
30th October 2014 – MMU union
Bright Club Manchester entered new dimensions in this blockbuster festival edition of the stand-up comedy night with a difference.
Silky  ("Funny and clever"- Tim Minchin) compered a night designed to bring together some of the best and brightest acts from our past shows for this dazzling spectacular;
Alison "Bones" Atkin
Ben "Brains" Ambridge
Gavin "Transporter" Coupe
Mark "Gravity" Purver
Joe "Spacey" Zuntz
Hannah "Sex Historian" Kershaw
Closed off with a round of comedy songs by the ever hilarious Ben Champion.
Videos from the show can be found on our YouTube page.

Bright Club Manchester 22 – Ideas
12 June 2014- the Deaf Institute.
Big, small, new, old; ideas make the world go around and there was plenty  to think and laugh about, at this special event for Universities Week.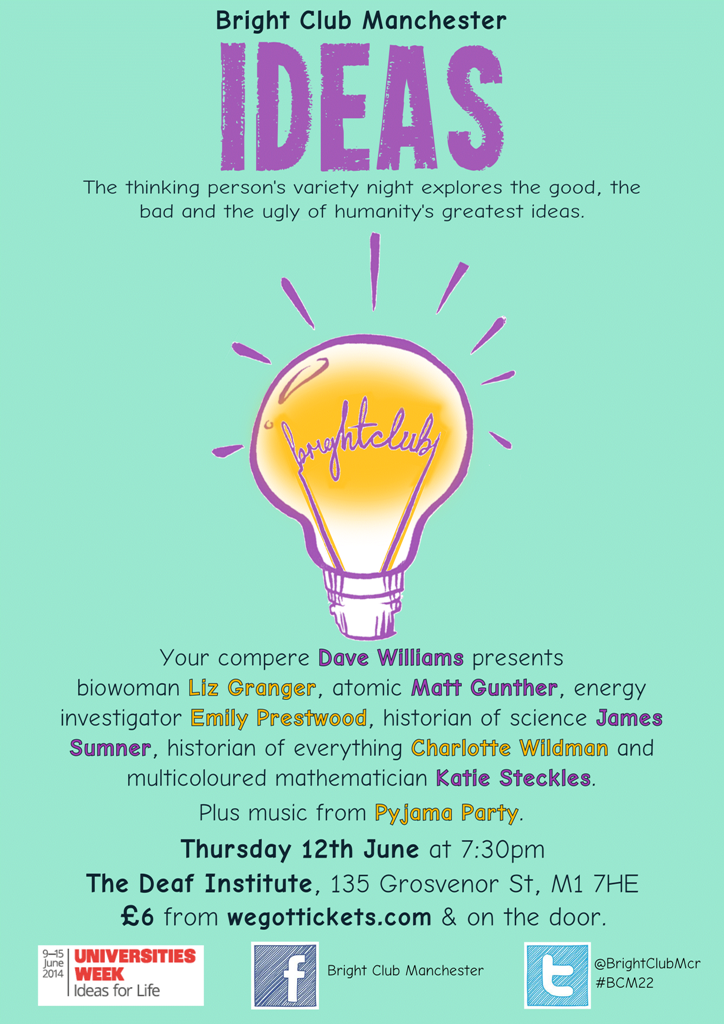 Dave Williams, regular MC for the Comedy Store,  compered a line up of some of the finest and funniest minds around:
Liz Granger – biowoman;
James Sumner – historian of science;
Charlotte Wildman – historian of everything;
Emily Prestwood – energy investigator;
Katie Steckles – multicoloured mathematician;
atomic Matt Gunther.
All capped off with the musical antics of Pyjama Party.
Videos from the show can be found on our YouTube page.
Bright Club Manchester 20 – Anticipation
5th December 2013- Nexus art cafe.
In the build-up to the festive season, join university researchers and other brainy types as they interpret the theme if Anticipation in funny and unexpected ways.
Bright Club Manchester 18 – Monster
31st October 2013- Gorilla
A special Halloween show from Bright Club Manchester focusing on all things ghoulish. All performances can be watched again and again to your hearts content at our YouTube channel.